Are you looking for a marquee manufacturer that can offer you the best quality and service in Pakistan? Whether you need a marquee for your own event or for your rental business, you need a reliable and professional marquee manufacturer that can deliver on time and on budget.
At RH CONTRACTOR we are proud to be one of the new marquees makers in Pakistan, with a wide range of clear span marquees, steel structure marquees, and other types of marquees for sale near you. We have been in the marquee manufacturing business for 10 years, and we have served hundreds of satisfied customers across all over Pakistan include Islamabad, Rawalpindi, Lahore, Peshwar, Quetta, Sahiwal, Multan and much more other cities.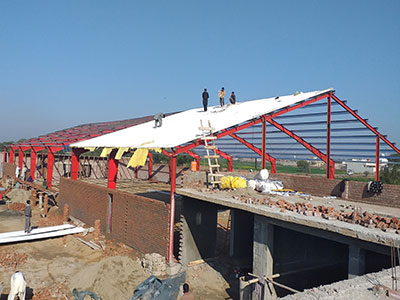 We have the experience, the expertise, and the equipment to produce any marquee size, shape, and design that you require. We use high-quality materials, such as HR-Steel, purlin, Profile color coated galvanised sheet and also use Glass wool for controlling weather temperature and in PVC marquee used hannellised aluminium frame, galvanised steel joints, PVC coated polyester fabric, and flame retardant vinyl. We also follow the highest standards of health and safety and environmental responsibility.
We are not just a marquee manufacturer; we are also your marquee partner. We will work with you from the initial consultation to the final delivery and installation of the marquee. We will listen to your requirements, offer you advice and guidance, and deliver a bespoke service that meets your expectations.
We are committed to providing you with the best value for your money. We offer competitive prices, flexible payment options, and free site visits(near Lahore other cities very low charges fees ) and free provide quotations. We also have a comprehensive warranty policy that covers any aftersales services. We are passionate about what we do, and we always strive to exceed your expectations. We are always ready to respond to your inquiries and requests in a timely and professional manner. We use the latest technology and software to manage our orders, inventory, quality control, and customer service